Rick Cowling
---
chief engineer and post-production manager,
Speak Together album
for Greenstar World Music
Rick started playing music at the age of 3.
Originally from Nebraska, he has both a musical and an engineering background. Since he has been in California, he has written and produced many songs for television, scored several animation features, and produced music for Sony Playstation and SEGA video games.
He has also collaborated with other writers, including Alan Roy Scott, Harold Payne, Bobby Womack, Jim Peterik, and Laura Brannigan. On the engineering side, he has worked in the studio with many artists, including Stevie Wonder, Bonnie Raitt, Jeff Healy, Joan Osborne, Montell Jordan, Duncan Sheik, Peter Frampton, LeeRoy Parnell, and Bobby Womack.
You can hear a sample of one of Rick's recent recordings here: Don't Fall.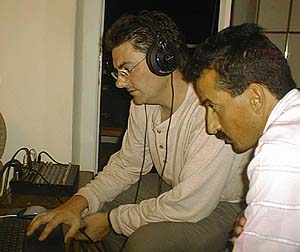 ---