Tools for Independence
twelve proven programs that make a difference in the lives of people in a village in the developing world
health, education, energy, environment and communications
from an international group of organizations, including Nigeria, Kenya, India, South Africa, the UK and the USA
building independence through revenue-producing plans based on indigenous culture and traditions
---
Greenstar's "Tools for Independence" exhibit at the World Summit on Sustainable Development in Johannesburg, South Africa, demonstrated a number of proven, practical tools for communities in the developing world, with a hands-on opportunity to experience their benefits. There are 400,000 such villages in the world where these tools are needed -- home to 2.3 billion people.
This program was developed partly with support from the United States Department of the Interior, which has a long-term commitment to a mature approach to environmental responsibility and balanced economic development, for the First Peoples of the United States. This commitment benefits from an understanding of new ideas that surface first in the developing world. These new ideas often mean decentralization, emphasizing individual and community initiative and independence, a focus on small business that people can start and manage themselves, and the use of durable technology tools that can be made widely available, economically.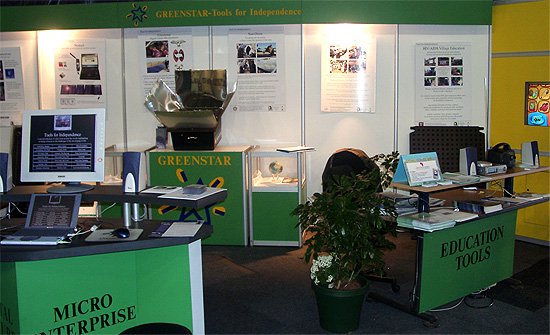 The selected Tools for this exhibit, which come from South Africa, Kenya, Nigeria, the West Bank, Jamaica, India, Ghana and the United States, include:
| | |
| --- | --- |
| | solar power, provided by Greenstar, Astropower and Xantrex; the entire "Tools" exhibit will be independently powered by a large solar array outside the main tent at the Ubuntu Exhibition |
| | digital culture, provided by Greenstar and the communities it serves in the West Bank, Jamaica, India and Ghana, and soon in New Mexico: music, art, poetry, dance, legends and traditional culture as a small, global business enterprise |
| | the Navajo voice: a new program initiated by Sandia National Laboratory and Greenstar brings tools and techniques used in the developing world to traditional communities within the United States |
| | health education, provided by Debra Kurshan, a Peace Corps volunteer in Ghana who developed a simple way to use a handheld computer for youth education about HIV/AIDS |
| | solar and hand-crank radio, provided by Freeplay Foundation of South Africa, which provides access to local and international short-wave programming anywhere, without electricity or batteries |
| | satellite-phone Internet, provided by Greenstar, a mobile system called Nomad which allows inexpensive, portable Internet and email access anywhere on earth, through a single wireless connection |
| | solar water pasteurizer, provided by Safe Water Systems of Hawaii, which allows for effective, inexpensive water purification using only the heat of the sun |
| | language education, provided by Ohana Foundation of California, which uses DVD video in a simple, handheld interactive way to teach a wide variety of subjects, including English designed for Chinese students |
| | solar oven, provided by Sun Ovens International of Illinois, which uses concentrated, reflect heat from the sun to create a small bakery; most recently implemented by Knightsbridge for the women in two villages in Afghanistan |
| | hand water pump, developed by Approtec of Kenya, which provides a powerful, durable way for small farmers to irrigate using only human power |
| | cooling pots, created by Muhammed Bah Abba of Nigeria as a natural earthenware cooling system to keep fruits and vegetables fresh without external power |
| | satellite radio, developed by WorldSpace, delivers a global selection of development subjects, in many languages, across Africa and much of Asia, through a satellite-based radio station; also delivers a selected menu of websites to digital receivers |
| | hand-held computer, presented by Africa Digital Bridges, brings a very inexpensive communications and learning device to the developing world. Tough, based on Linux, with a touchscreen, text-to-speech, internet connectivity, shareability, solar-powered, and an approximate cost of $200 US. |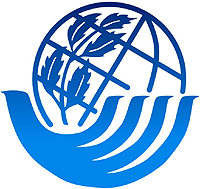 ---
The overall message: it is better to provide tools, education, incentive and connection to people than it is to give money by itself. Financial assistance or gifts alone can create dependence by the people who receive them. Responding only to short-term needs ensures that there will always be ever-growing short-term needs; it does not address underlying challenges.
A more mature approach is to provide the means, focused on small communities, to build economic independence, and to foster pride -- to harness the natural entrepreneurial instincts of people everywhere who seek to build a better, more secure future for themselves, their families, children and their community. With the freedom to express that power, transformation is possible.
The Tools for Independence exhibit was a collection of such solutions, scaled and focused specifically on the small village in the developing world. Greenstar will implement many of these Tools in upcoming programs planned for New Mexico, Tibet, Brazil and South Africa.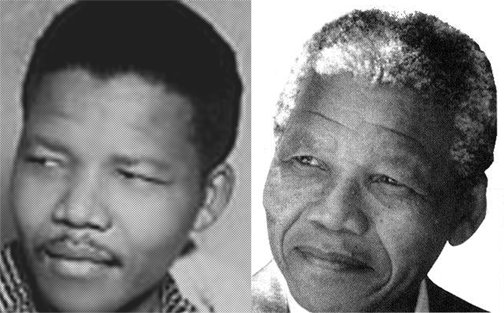 Let there be peace for all.
Let there be work, bread, water and salt for all.
Let each know that for each body, the mind
and the soul have been freed to fulfill themselves...
Let freedom reign.
Nelson Mandela
---
Layout of the
Tools for Independence Exhibit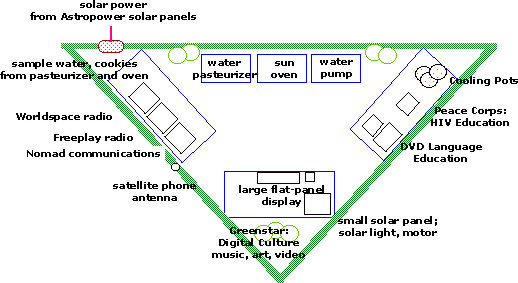 Ubuntu Exhibition,
World Summit on Sustainable Development
Johannesburg, South Africa
August-September, 2002