Sun Ovens for Afghanistan
Update from Greenstar
July 22, 2002
---
The Knightsbridge team has moved effectively through some of the most challenging regions of Afghanistan, including the northern region between the Uzbek border and Kabul, and now the roads between Kabul and Bamiyan, the site of the tragic demolition of ancient Buddha statues by the Taliban.
Theirs is a fascinating story, simply and starkly told.
A Sun Oven has now been set up at a girls' school for 2900 students in Aibak, and another at a school on the outskirts of Kabul.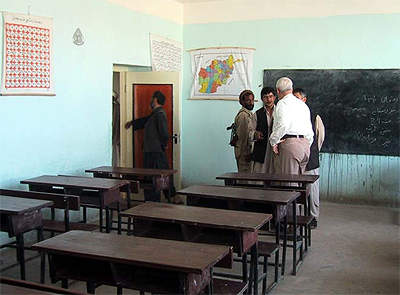 ---
From: TRCWalt@aol.com
Sent: Monday, July 22, 2002 11:51 AM
Subject: Update #12: Knightsbridge / Tzu Chi Mission to Afghanistan
July 21, 2002
It was our plan to pick up camp in Aibak, and move to Kabul, starting first thing this morning. We had asked around and received estimated driving times of anywhere between five and nine hours.
The drive took the full nine hours, and we arrived in Kabul around 5:00. We did not stop. What a drive!! We went from over 100 degrees F to where we were looking for jackets (which we did not have) because we were so high up in the mountains.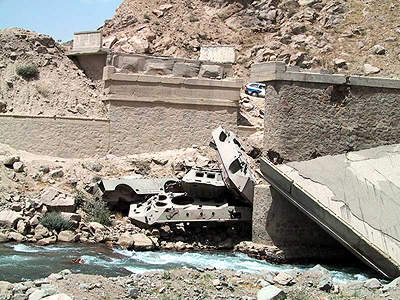 We were continuously passing evidence of years of battles. It would not be an exaggeration to say that we passed over 100 blown up tanks within 20 feet of the road. Most of the major river crossing bridges had been blown up, and we used temporary military type bridges. We went through the famous Salang tunnel at the top of the mountain pass. It was in this tunnel that many cars and trucks were trapped this past winter by avalanches on either side, with many drivers and passengers freezing to death. In many areas, there were so many destroyed tanks that road building crews had gathered them together to use them as foundations for embankments, retaining walls, and bridges.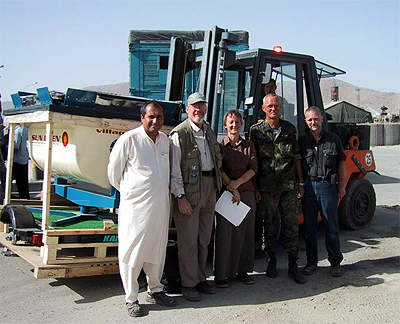 When we arrived in Kabul, we met with Sher Dil, our friend from FAR - Friends for Afghan Redevelopment. Sher Dil was instrumental in making everything work for the next couple of days, and I am sure for much time to come here in Afghanistan.
We met with the drivers of our seven trucks, and made arrangements to unload them tomorrow morning. One of the trucks had blown a head gasket coming over the mountains and one was experiencing severe overheating. These were two of the three trucks we have scheduled to go to Bamiyan. Something will have to be worked out here. Not sure what just yet, but there are always lots of options. The mechanical difficulties, along with the drivers' wanting to get home, and not make the drive to Bamiyan and back first, made it look like we would be hiring other trucks to move the goods to Bamiyan.
---
July 22, 2002
We had several things on our plate this morning. We needed to resolve the issue with the broken down trucks and the Bamiyan, the trucks for Kabul need to be offloaded, we have a Sun Oven to be delivered to Mercy Corps, somewhere in Kabul (needing a crane or a forklift), and we had to make arrangements to get to Bamiyan.
After a lot of discussions with the truckers and the trucking company in Tashkent, we all decided that the trucks would still go to Bamiyan. The contents of the inoperative trucks would be loaded onto two of the trucks that are not working, and the good ones would go to Bamiyan. This is not as simple as it sounds, because the drivers are owner/operators, and their paperwork assigns a driver, a truck registration, and a destination.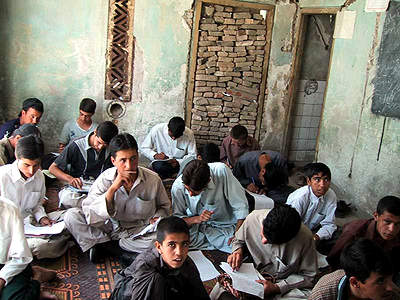 FAR has "adopted" a school in the middle of Kabul to help. This school has been overlooked by most of the large NGO's because it is small and does not provide a large opportunity for grant money. There are a total of 600 students attending this school, in two shifts per day. Sher Dil's group at FAR has put together several programs to help this school. In one program, they are building desks for the kids. (Right now, they stand or sit on the floor.) Besides just taking donations for the purchase of the desks (at $9 each), they have a "Lucky 13" Program where people or organizations can donate funds in multiples of $13. This $13 essentially purchases a slot for a child to attend school. Besides the $9 desk, it pays for the needed pencils, and papers, and provides funds toward a school nurse and medical supplies.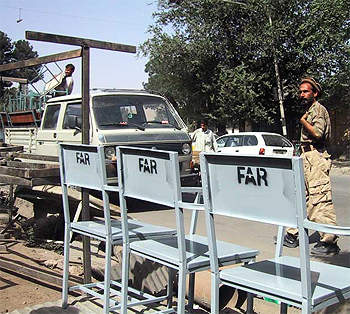 The school is in need of many things besides desks and school supplies. It needs a roof, a well, latrines, and chalkboards.
Next we found Mercy Corps and went to deliver the Sun Oven there. They did not have a fork lift or a crane. We took the truck to the air base, where Anita from Mercy Corps knew some of the guys there. The were from the German Army, and agreed to offload the Sun Oven with their large fork lift and transport it to Mercy Corps.
---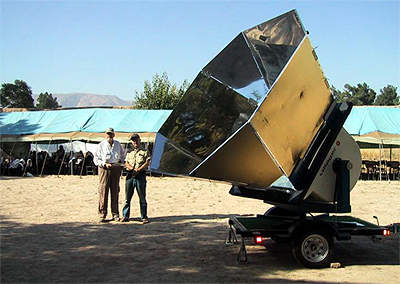 Ed Artis and Walt Ratterman of Knightsbridge complete unloading and setup of the Sun Oven, donated by Rotary International, in Kabul, Afghanistan.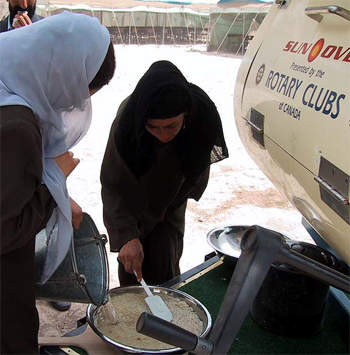 Afghan women at the school in Kabul make the first batch of tradition "pillau" bread, to feed their children at class.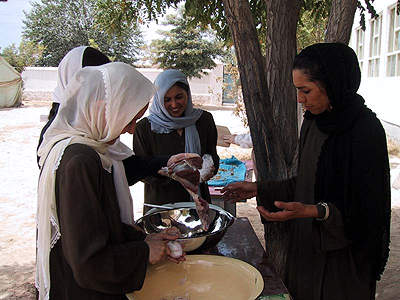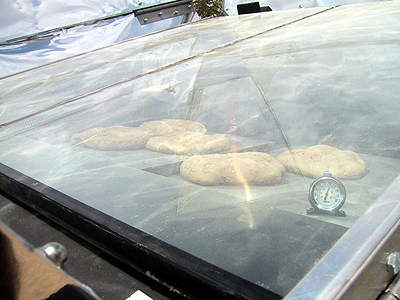 The Sun Oven, using only the refracted, concentrated light of the sun, reaches internal temperatures of 175 degrees Celsius (350 degrees Fahrenheit), more than enough to bake the flat, unleavened "naan" bread which is a staple of the Afghan diet.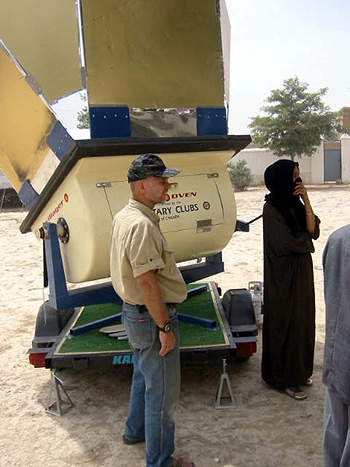 The headmaster of the Kabul school looks on, as the first bread is baked.
---
A key participant in this project was the Tzu Chi Foundation, a five-million member Buddhist organization from Taiwan, with offices in the United States and 39 other countries. See www.tzuchi.org
<< previous report | next report >>