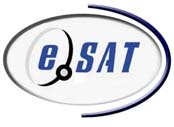 ---
eSAT, Inc. and
Global Media Technologies, Inc.
Global Knowledge Via Satellite
---
eSAT, Inc. is a leading provider of cost-effective, high-speed satellite information access to under-served rural and overseas markets with limited bandwidth for local access to Internet service. The Company believes its leading-edge satellite technology will capture a significant share of the burgeoning worldwide market for Internet and connectivity services.
Computer World concluded through a 1998 Pioneer Consulting report, "Satellites will emerge as a global option for broadband Internet services. Demand is expected to push this fledgling market to 39.6 million subscriber homes by 2007." According to The New York Times, "Thousands of businesses, schools and Internet Service Providers in remote areas have opted for satellite access to the Internet, because landlines are either unavailable, or too expensive.
eSAT develops and markets products and services to deliver high-speed information access to customers in the business-to-business, education, and other professional segments. The Company targets market segments and geographies where competing access methods are unavailable or economically infeasible. Merrill Lynch reports these under-served markets represent a growing percentage of overall connectivity requirements on a global basis, with overall telecommunications revenues expected to top one trillion dollars by the year 2001.
The Company currently enjoys competitive advantage in the implementation of high-speed data traffic delivery via satellite. eSAT's network utilizes an innovative method to improve performance of IP (Internet Protocol) traffic transmitted via satellite by an order of magnitude over current satellite service providers. The Company offers both tethered (terrestrial request path) and untethered (bi-directional satellite path) product solutions to economically offer high-speed connectivity, supporting applications that would otherwise be unfeasible. The ability to offer one-to-many multicast IP services is the Company's key service to a marketplace demonstrating exponential growth.
The Company intends to leverage its satellite Internet transmission capabilities on a global basis through the construction of a network of strategically positioned uplink facilities, which will service 10 global footprints. This global satellite backbone will provide connectivity solutions to the Internet for all ten footprints, as well as providing the infrastructure to build out private and virtual private networks, and to originate multicast IP services.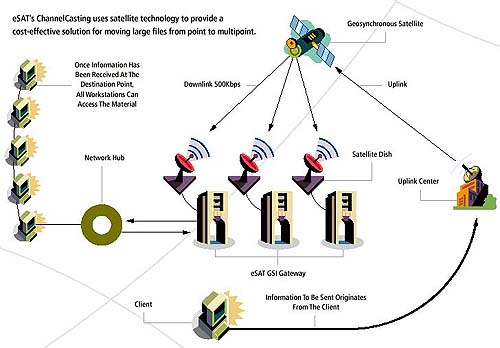 The Company anticipates raising sufficient capital to construct a series of 5 global uplink facilities within 24 months with corresponding efforts in ongoing development of next-generation satellite services. The Company's strategic objective is to become the leading worldwide provider of cost-effective, high-speed satellite data delivery services including Internet service.
---
Key Highlights of eSAT's Corporate Positioning
Potential to Become Leading Provider of Low-Cost, High-Speed Satellite Access to Global Marketplace: The Company's advanced technology enables users not currently wired for cable or fiber-optic to access high-quality, high-speed data service for a fraction of the infrastructure expense that established ISPs would have to charge. In global non-wired markets, competition is limited and the Company enjoys a high degree of competitive advantage as a result of its low-cost technology solutions.
Significant Advantage in Price and Service vs. Fiber Optic and Cable Technologies: The Company's satellite access technology does not require lengthy installation lead times associated with traditional terrestrial lines, therefore the Company has no costly infrastructure expenses to amortize. The Company now offers to provide service for network users for a low, flat monthly rate of under $500.
Dependable, Recurring Revenues: Service contracts once in place result in corporate customers that are far less likely to "shop around" for other service providers, making it a more lucrative and stable market niche for the Company. Customers are signed to a binding service contract of 1-3 years. In addition, the Company can upgrade and cross-sell additional services, thus increasing revenues from existing customers. The Company's recurring revenue sharing model is also extremely popular with industry resellers and system integrators.
Favorable Global Marketplace and Demographics for Data/Information Distribution and Market Penetration: The Company's technology is particularly relevant outside North America and Europe where demand for information services via computer will soon exceed the infrastructure available to allow high-speed access and downloads from the Internet. The industry is still highly fragmented in its delivery systems, and no single competitor or technology has yet emerged as a clearly leading global market leader. Out of a total worldwide population of 5.7 billion, fewer than 200 million users currently have access to the Internet due to the large cost and lead-time involved in building out the communications infrastructure. Industry projections indicate a global market of approximately 205 million users in 1999, and 350 million in 2005.
Leading-Edge Technology Solutions: The Company's un-tethered and tethered satellite products offer significant advantages in speed, cost and quality over existing landline technologies. The hybrid system of the Company's GSI product is capable of transmitting digital data nearly twenty times faster than a standard dial-up modem and four times faster than an ISDN cable line (in its standard configuration). Minimal installation time is required and equipment is limited and affordable.
Seasoned Management and Technical Team: The Company has made a significant invesTMent in the past 18 months in experienced management and technical professionals, and has created an attractive incentive stock option plan to attract and retain talented individuals.
---
The eSAT, Inc. Technology:
The Company's core technology relies on its innovative solutions to handling IP (Internet Protocol) traffic via satellite transmission. The optimizations made by eSAT to improve the delivery speed of IP data via satellite has resulted in an order of magnitude improvement over traditional methods of delivery. The Company intends to leverage this core competency by building on those innovations and using them as the basis for a high-speed global satellite network.
Global Satellite Backbone (GSB): The Global Satellite Backbone (GSB) will provide high-speed satellite data services at a number of different levels, to customers across the globe. The infrastructure of the backbone network will consist of five (5) uplink/hub facilities and various Geosynchronous Orbit (GEO) satellites to reach ten geographic footprints. The hubs are connected to the Internet via high-speed fiber and contain a collection of equipment designed to uplink and receive satellite signals, process and manage the assignment of data channels, and route Internet traffic.
Transmissions from the hubs to customer receiving dishes, known as outbound traffic, will use the standardized DVB/MPEG-II (Digital Video Broadcast) (Motion Picture Expert's Group, an industry wide video compression standard) transport stream with TCP/IP (Transmission Control Protocol/Internet Protocol) packets. TCP/IP packets are wrapped inside a DVB/MPEG-II transport stream for delivery by satellite, similar to an Asynchronous Transfer Mode (ATM ) network. All traffic routed across the GSB is encrypted using DES-56. Additional levels of encryption may be accomplished on a per session basis, and will be required for VPN implementation across the Internet.
Management of the GSB is coordinated on an on-going basis with communications between the hubs and CPE. The hubs are staffed and operational on a 24 hour, 7 day a week basis. In addition, central monitoring and diagnostics are conducted from the Global Network Operations Center (GNOC). The GNOC is responsible for all the operations of the network and will have the ability to remotely monitor all hubs. The distributed intelligence and central control capabilities of the GSB allow the provision and management of diverse services such as Internet access with public and private IP addresses; routing; web and email hosting; private and virtual private networks; shared, dedicated, flexible and wholesale bandwidth; and IP-multicasting.
Network Topologies: The satellite access services and products provided by the Company may be used to form a star topology, as a pure private network, or as a hybrid star topology when combining satellite, dedicated or dial-up terrestrial lines, the Internet, or other Mediums. All connections to the Internet at the hubs are through multi-homed fiber optics cable.
Satellite Access Schemes: In addition to the standard DVB/MPEG-II transport stream for the traffic outbound from the hub to the Company's Customer Premise Equipment (CPE), the Company relies on several satellite access schemes for traffic inbound from its CPE products.
SCPC (Single Channel Per Carrier) circuits
FDMA (Frequency Division Multiple Access) is a type of Demand Assigned Multiple Access (DAMA)
MF-TDMA (Multiple Frequency-Time Division Multiple Access)
Bandwidth Allocation: Several methods to provide appropriate bandwidth allocation in the GSB are implemented to ensure optimal utilization.
Shared bandwidth
Dedicated bandwidth
Flexible bandwidth
Service Capabilities
Internet Access
ChannelCasting™ (IP Multicasting)
Virtual Private Networks (VPNs)
Private Networks (PNs)
Wholesale Bandwidth
---
eSAT, Inc, Products and Services
The Company addresses the market by offering core products and services, with variants to customize offerings to the specific needs of customers. Using these core products as building blocks, applications may be realized and or specific topologies can be achieved.
Global Satellite Internet (GSI™): The GSI is a turn-key, tethered satellite information access product, consisting of a 0.9 meter receive only satellite dish and standard Windows NT PC with a PCI satellite modem card, network card and specialty software. It connects directly to a local area network (LAN) and will route TCP/IP requests from the LAN users through a terrestrial (dial-up, ISDN, Cable, T1, etc.) outbound line and receive responses via satellite.
The GSI product delivers advantages of high-speed satellite information delivery, with cost advantages over untethered solutions. With up to 8Mbps being received by the GSI, and standard product configurations delivering a reliable 500Kbps, the performance to price ratio is unrivaled by any other terrestrial or satellite solutions. This "asymmetric" approach exploits the difference between the size of a request for data and the data itself. The difference is generally between 1:500 - 1:1000 and is expected to rise, as web pages become more complex. The GSI "store and forward" of IP multi-cast information is not available with standard terrestrial services and is economically unfeasible for them to duplicate.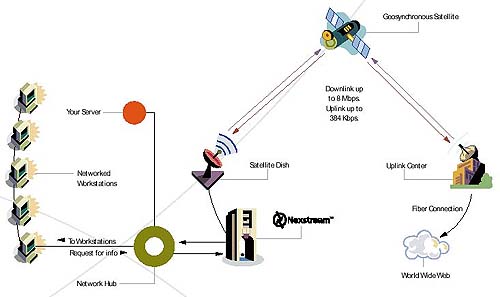 Nexstream™ is a bi-directional product that builds on the satellite reception capabilities realized in the GSI, adding a satellite path from the product to the GSB hub. Transmissions from the field unit to the GSB hub, can vary from 16Kbps to 384Kbps. Reception of inbound information from the hub to the field, utilizes the same method as in the GSI and can achieve speeds of 8Mbps. The Nexstream is a turn-key solution, consisting of a 1.2 meter send/receive satellite dish and standard Windows NT PC with a PCI satellite modem card, satellite modulator, transmitter power source, network card and specialty software. It has a static IP address that can be public or privately routable and build in WAN support. It connects directly to a LAN/WAN and will send and receive traffic over the satellite. With the satellite path, from the Nexstream to the hub, on-the-fly bandwidth allocation schemes will become possible as well. For remote areas, the satellite connectivity may deliver a considerable cost savings over dedicated terrestrial lines.
The Nexstream product may be placed in areas with no terrestrial infrastructure and or used as a supplement or back-up for existing terrestrial connections. The inherent advantages of being able to operate independent of terrestrial infrastructure allow the product to be placed in remote areas, and to be transportable for operations that are frequently relocated. Specific industries/applications well served by this product include:
Disaster Recovery
E-commerce in developing countries
Emergency Response Agencies
Law Enforcement
Fire Departments
Department of Forestry and Lumber Companies
Maritime operations
Mobile Command Centers and Labs
Agriculture
---
Channel Casting: The ChannelCasting™ service is available to be received on any of the Company's products. ChannelCasting may be utilized as a stand-alone service, or selected as a bundled service capability. As a bundled solution, this supplements the Internet connection, which is a standard offering of the Company's products. This service takes advantage of the inherent "store and forward" capabilities of the Company's tethered and un-tethered products.
ChannelCasting takes data from a single source and economically distributes it to a prescribed user list. The data is distributed at the same time to all parties, or maybe staged for scheduled delivery as required by the supplier. Viewing of the materials can be regulated as to time, and the materials can be left resident on the recipients LAN connected resources for reference at a later date.
Some of the advantages of utilizing this service will be realized in the following key applications:
Large data files
Distribution of Training Videos
Distance Learning
Business Video Segments
Distribution to Movie and Music Kiosks
Distribution to Retail Stores for Marketing Presentations or Advertising
Form and Policy Distribution and Management
---
Targeting Vertical Markets via Global Media Technologies, Inc.
As a complement to eSAT's core line of business in high-speed satellite information delivery services, it has positioned Global Media Technologies (GMT), as a wholly owned subsidiary to utilize its core capabilities in realizing solutions to targeted vertical markets/industries.
The Company's Global Media Technologies subsidiary is focused on near-term development of satellite-based products, which leverage the Company's high-speed, high-quality data delivery capabilities. GMT is the leveraging of eSAT core competence in the delivery of high-speed streaming video and data files from point to multi-point by partnering content providers in the education, entertainment and business-business markets to become the preeminent vertical provider of content via satellite. Its strategic plan is to offer a variety of exciting and innovative products and services which penetrate vertical consumer and business markets leveraging the company's core technologies with high-impact market-demand content.
The MovieWallet™ is a digital storage device that takes advantage of eSAT's ChannelCasting™ technology, where large video and data files are simultaneously distributed from point to multipoint movie-kiosks installed worldwide in national retail outlets, and other high traffic areas. The MovieWallet is a device about the size and dimension of a palm size PDA but with the capacity to hold multiple DVD quality MPEG2 movies as well as advertising, games and special promotional material. The device is designed to fit within a docking station the size and configuration of a traditional VCR connected to the home television set.
The product, will allow consumers to download multiple full-length movies from eSAT Movie Kiosks™ in less than 2 minutes per movie. The MovieWallet connects to a home television with the use of eSAT's Wallet Docking Station which will be provided to customers at a minimum onetime deposit cost. New movies can be loaded into the MovieWallet™ as previous movies "expire" or simultaneous with other movies.
All movies transferred into the MovieWallet are fully encrypted digital video files that cannot be reproduced or copied. The product is especially well suited to the overseas film and video market where piracy of intellectual property is an ongoing concern. The Company believes MovieWallet can become a state-of-the-art model for retail video and music distribution, replacing "brick and mortar" stores similar to what ATMs have offered consumers as an alternative to visiting bank branches. MovieWallet technology would also eliminate expensive inventory purchase and carrying costs, as well as the problems associated with slow-moving or obsolescent video and music inventory. MovieWallet is currently in testing and should be ready for production soon. The Company anticipates rolling the product out during calendar year 2000.
In order to build consumer acceptance and penetration of the technology in the marketplace, the MovieWallet and Wallet Docking Station™ will be sold at cost, or provided free as part of a subscription contract. Movies will be charged to a customer on a multiple year subscription basis or via credit card swiped at the kiosk. The cost of each video to the consumer is expected to be below current market prices of $2.00-$4.00 per movie per day, as the Company anticipates deriving revenues from the product via advertising or subscriptions or licensing arrangements with various movie studios. Advertisers will be able to provide targeted content at the beginning of each segment, and then collect information on the number of times viewing of advertising has occurred when the customer returns to the kiosk to download new movie selections.
HospitalitySAT™ is a proposed video on demand and Internet service which eSAT will establish as a joint venture with nStreams, Inc. nStreams provides all of the video server and TV based Internet browsing capability while eSAT provides the satellite based movie update system via ChannelCasting and Internet connectivity via GSI. HospitalitySAT is anticipated on being installed in participation within several extended stay hotels throughout the US in the first quarter of 2000.
Ad-SAT™ is a proposed leading edge method for delivering indoor advertising to large flat panel/gas-plasma displays. These displays measure as large as 50" and deliver stunning full motion video without ghosting or other artifacts typical of other flat panel technology. The system is fed and maintained by eSAT GSI technology. An international airport or several international airports equipped with flat panel displays can deliver vital flight information as well as engaging advertisement. The advertisement or information can be delivered as a window in window format or as full screen presentations at each location. The beauty of the system is that it is operated, maintained and updated remotely via eSAT satellite transmitted data. Advertisements can be ChannelCast to many displays simultaneously regionally, nationally or globally.
MED-Access™ is a proposed joint venture between eSAT, Waterside Productions and The University of California - San Diego, which will link all five campuses of the University of California medical school system into one entity via eSAT GSI Internet connectivity. Within the structure of this joint venture the University will produce and contribute UC-Grand Rounds™, a specialized case presentation and a UC Distinguished Lecture Series™ that will be ChannelCast™ to all campuses as full screen, full motion video. This content will be made available as store/forward content to all full-time physicians and house-staff. This service is intended to be free to the University and supported via advertising, sponsorship and e-commerce, targeting the physician and healthcare market. UC MED-Access will also offer home Internet access to regional physicians at competitive cost. Eventually all archived and timely content as well as the full service developed within this partnership will be made available to physicians globally.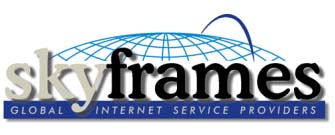 SkyFrames™ was formed in July 1999 in response to needs expressed by under-served rural Internet users in the US; specifically those tied to school districts off the ISP matrix. Skyframes utilizes the eSAT's core satellite and networking technology to establish school-centric, community ISPs serving one or more of the schools in rural districts that would otherwise not have the infrastructure to connect to the Internet.
Each hosting school has no responsibility to purchase, install, operate or maintain the ISP equipment. However, for simply providing a physical space within the school facility for the ISP system the school receives:
Free, unlimited access to the Internet during school hours.
Subsidized or free computers and LAN equipment provided by partner computer manufacturers.
10% of all monthly revenue generated from community subscribers' money earmarked for more school computers to the hosting school and/or the district
---
eSAT estimates that approximately 20% of the United States cannot be efficiently wired for either conventional or cable Internet service. The Company's specialized satellite technology creates local points of presence in rural communities in the US as well as in developing countries that make possible high-speed Internet access.
The so-called Digital Divide is the defining line between metropolitan areas with significant bandwidth vs. rural areas with little or no Internet access. The Digital Divide becomes even more important when placed within the context of industrialized nations and developing countries. eSAT considers satellite based access to the Internet as the most viable means of leveling the playing field both in education and in e-commerce opportunities for rural US and developing countries.
Users access the SkyFrames network through a local telephone number, dialing into a modem bank at a SkyFrames rural ISP site. Alternative modes of access involve wireless LAN systems in remote areas and in areas where local weather conditions preclude dialup terrestrial lines. The modem bank is integrated with eSAT's GSI Gateway, directing traffic through landlines to the Company's satellite uplink center. Internet content is relayed back to the GSI via a high-speed satellite path and then transmitted to the client via modem. Services are transparent to the end-user, i.e., the customer is unaware that the Internet service is being provided via satellite.
For more information please contact:
---
Barry B. Sandrew, Ph.D.
ESAT, Inc.
16520 Harbor Boulevard
Fountain Valley, CA 92708
Tel: (714) 418-3200
Fax: (714) 418-3220
bsandrew@esatinc.com
This document is available for download at
http://www.e-greenstar.com/esat_alliance/summary.pdf
A press release about an alliance
between eSat and Greenstar, to introduce
electronic commerce to developing countries,
is availble at
http://www.e-greenstar.com/esat_alliance/pressrelease.htm
---