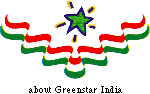 Greenstar India
---
India's Villages
Start an Ecommerce Movement
Greenstar India introduces solar power,
the Internet and "digital culture" to rural India
FOR IMMEDIATE RELEASE
this document may be accessed on the Web in a form suitable for printing;
http://www.e-greenstar.com/India/launch/Press-release.pdf
---
New Delhi and Los Angeles, October 2, 2000: Greenstar India announced today that it will build 50 solar-powered community and ecommerce centres in remote villages throughout India over the next three years. As part of the celebration of the birth of Mahatma Gandhi, the first site is being dedicated today in Parvatapur village, about 150 km from the Andhra Pradesh capital of Hyderabad in southern India.
Mr. Chandrababu Naidu, Chief Minister of Andhra Pradesh, will connect with events in Paravatapur today through the Internet, where the first Indian "digital culture" products will be produced, and offered to the world. The Chief Minister will place an order for the music and art being created by villagers hosting today's inaugural ceremony; he will be visiting a Greenstar website at http://www.e-greenstar.com/India/
To generate income through ecommerce, Greenstar villages focus on India's vivid traditional culture -- authentic art, music, legends, literature, history and sacred way of life, long a source of fascination by people everywhere in the world. Greenstar is employing a team of artists and teachers to record elements of rural Indian culture, working closely with the people of each village. This original concept is already working in the Palestinian Authority and Jamaica. The result will be a powerful, unique collection of "digital culture" -- a gallery of music, artwork, photographs, video, poetry and other arts, which can be distributed in high-resolution digital form throughout the world, instantly and efficiently.
The revenues from digital culture will be used to fund basic needs of each village for its future, as decided by the people themselves -- deploying tools that include clean solar power, telemedicine and vaccination resources, basic education, micro-credit, community organizing, and a high-speed, two-way connection to the world through the Internet.
---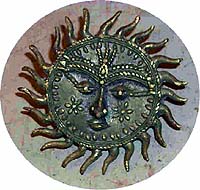 The company behind these investments is Greenstar India, a new consortium of companies from India and the United States. Stakeholders include Capital Fortunes, a Hyderabad-based financial and business advisory consultancy, the Jindal Organization based in Delhi with operations throughout India and America, and Greenstar USA, which has pioneered the solar-powered ecommerce and digital culture concept. The participating companies are providing capital, technology and resources. Other key players are Indian government agencies and private participants including the Ekalavya Vidayalya Foundation, Ikisan, Kinera Object Connect, and the Renewable Energy Office at the Centre for Scientific Research of Auroville.
Major support for Greenstar India comes from The Sterling Group, a company that has led the way in providing high-speed Internet access in India. Through its subsidiary, Dishnet/DSL (http://www.dishnetdsl.com/), Sterling will provide all the internet connections for Greenstar villages, including free Web hosting, and will sponsor a village demonstration in the Chennai region in the near future.
The first Greenstar India project is in Parvatapur in the Mahabubnagar District of Andhra Pradesh. This community has a deep tradition of music and art, and has been pioneering natural agricultural practices. Digital culture techniques are the only means feasible for preserving the intricate colored chalk art practiced in the village, and the spontaneous drumming and storytelling of the Telugu people.
---
See the attached backgrounder for more in-depth information on the people, ideas, policies and technologies behind Greenstar India. A selection of photographs of Parvatapur and Andhra Pradesh is also available. A digital version of this press release is available at http://www.e-greenstar.com/India/launch/Press-release.htm
---
The music and multimedia CDs mentioned in this story may be purchased online here:
http://www.e-greenstar.com/India/launch/buymain.htm

For further information, contact:
Dr. Charles F. Gay of Greenstar
in the United States at:
1-323-422-9602, toll-free in the US: 1-877-282-9900
by email: cgay@e-greenstar.com
Also see the Greenstar websites at http://www.e-greenstar.com
and http://www.greenstar.org
Ms. Rajeswai Rao Pingali
Director, Greenstar India
in India at:
91-40-3310560; 3316083; 3397279
by email: rajeswari@e-greenstar.com
-30-
---

Backgrounder:
Greenstar India

People, Ideas and Technologies
with a selection of photographs
available on the Internet
---
1. Key Participant Quotes
"India's rural villages, home to hundreds of millions of people, represent not just a huge potential market. They represent a great national asset, through their voice, their lyric and rhythm and melody, through their images and visions of life and its inner meaning. This asset can bring great richness to world culture, to people everywhere -- and it can bring affirmation and economic growth to the people in those villages, who have faithfully maintained their traditions through the centuries. Our job, with Greenstar and its many partners, will be to use modern technology in a gentle way, to bring forth these voices without clouding them with consumerism, to bring progress to India while maintaining that which makes us uniquely Indian. We look forward to working with Greenstar to express this vision."
Mr. C. Sivasankaran, chairman of the Sterling Group, a leading telelecommunications company serving markets in India and the US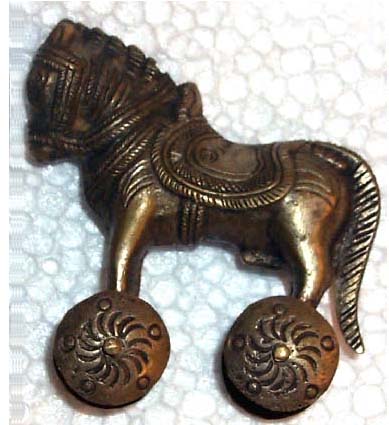 "Indians have always excelled at entrepreneurism and innovation, and our technology capabilities are respected around the world. But it's important, as India takes its place in the global interconnected community, that we do not lose contact with our roots, and that we recognize our responsibility to the millions of Indians who remain in our tribal and rural villages. It is the people of these villages who in the past have sacrificed their educational opportunities in favour of the more fortunate, highly educated Indians of today. The Greenstar movement will bring power and energy into these forgotten villages and propel them on the road of progress. Greenstar provides a roadmap for building this connection, not as a charity, but as a true joint business venture in which the people of the villages themselves earn a recognized value in the larger world."
Mr. Krishan Lal Chugh, Chairman of Capital Fortunes, former Chairman and CEO of India Tobacco Company (ITC), former Chairman and CEO of Bhatrachalam Paper Boards Ltd., Asia businessman of the year for 1994.
"Soon, people who live a vibrant, elegant lifestyle in India's rural villages will open a new window to the world. Although these people may be poor in the conventional economic sense, they are rich in experience, images and voice that are highly valued by the world. They are now connected to each of us; their local neighborhood includes Delhi, London, Tokyo and Los Angeles. Greenstar India's job is to find ways to translate the immense store of cultural legacy into economic terms that directly benefit the village."
Dr. Charles F. Gay, a US scientist and former Director of the Department of Energy's National Renewable Energy Laboratory, now a Director of Greenstar USA
"Greenstar India team members represent a unique blend of long-standing and newly-launched rural development strategies, and provide a solid foundation combining government and private sector initiatives for accelerating sustainable development in rural India. Mahatma Gandhi's principle of self-reliance is just as important in the age of cyberspace as it ever was, and we are determined to demonstrate how that principle, joined with advanced technology, can work to improve people's lives."
Ms. Sminu Jindal, Director of SAW Pipes Ltd. and key member of the Jindal Organization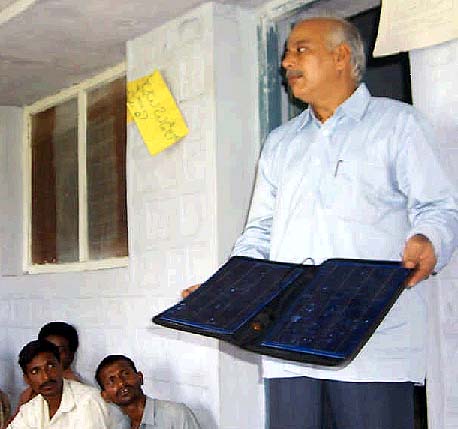 Dr. T. Nagender Swamy shows how portable solar panels work, to provide small amounts of electricity for village use.
"The vitality of rural India was the cause originally advanced by Mahatma Gandhi, upon which the modern state of India was founded. The Greenstar movement represents a new breath of the Mahatma's spirit for the 21st Century -- meeting the small, concrete daily needs of villagers, while connecting them to each other, and to the world. We are proud to dedicate the first Greenstar Community Resource Centre in Parvatapur on Gandhiji's birthday, October 2, as a recognition of this living connection between India's past and India's future. The Greenstar Movement will assure India's prominence in blazing the trail of cultural connectivity around the world."
Dr. T. Nagender Swamy, Executive Director of Villages in Partnership, based in Mahabubnagar
"The Greenstar movement is committed to the independence and self-determination of the rural heart of India. This is especially significant in today's climate of rapid globalization, at a time when everything traditional and authentic is going on the auction block of the world consumer mono-culture. Greenstar places a high value on our precious cultural and spiritual assets; this value is achieved through a measured, locally-scaled contribution of high technology that ordinary people can use -- an extension of the philosophy of Sri Aurobindo along a very practical path."
Ms. Divya Kapoor and Mr. Hemant Lamba of the Centre for Scientific Research, Auroville
"I have been the manager of a social audit organization in India for many years. In this role it has been apparent that if people can access information, if they have the means to see opportunities for entrepreneurism, they can build on their inner strengths. The Greenstar movement will not only give light to the darkness of night with solar power, it will eliminate the darkness of economic despair."
Ms. Rajeswari R. Pingali, Director of Greenstar India
---
2. Photographs
A selection of photographs of the Parvatapur location and other sites in Andhra Pradesh, India, including community meetings held around the technologies and ideas of Greenstar, powerful images of the men, women and children of the community, is available at no cost on the Internet.
The specific URL is http://www.e-greenstar.com/India/gallery/
Non-exclusive, fully-paid rights to use of these photos is available to journalists and any member of the public with a public education and information purpose, provided that the following credit and copyright notice accompanies each photo:
© copyright 2000, Greenstar India; photo by Charles Gay; http://www.e-greenstar.com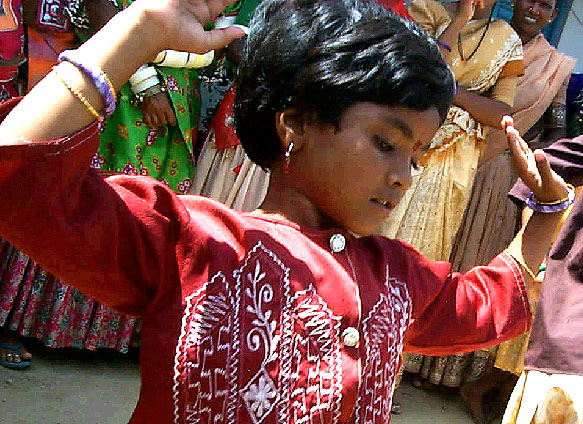 ---
3. More on Greenstar's Operations
The Greenstar centres are intended to accelerate rural development by providing agricultural information, heath care resources, veterinarian services, educational programs, communication support such as fax, email and voicemail, technologies for clean water and watershed management, and entertainment -- all driven by clean-energy solar power systems. They can also serve as the hub of a wireless telecommunications system networking other nearby villages.
Other prospective sites now being evaluated include Chenvelli, Pochempally and along the Kolleru Coastal Belt communities of Mangalagiri, Rudrapaka, Teyyeru, Vadalapudi in Andhra Pradesh; Navli and Navalgarh in Gujarat; Raigarh in Madhya Pradesh; Nyla in Jaipur and Khandchek in Orissa.
Parvatapur has also been involved with social development approaches initiated by "Villages in Partnership" a Non-Government Organization dedicated to the Gandhian principle of self reliance for rural communities. In this model, the role of the NGO evolves in concert with the design of the community through the distinct phases of sponsorship; participation; partnership; ownership and ultimately trusteeship.
To learn more about how Greenstar's digital culture program operates, and about its business model, see:
http://www.greenstar.org/digital-culture/
http://www.e-greenstar.com/business.htm
---
4. Technology
Photovoltaic Solar Power Array:
600 watts peak, - manufactured. by Titan India, from solar cells made by ASE Americas
Inverter - output 230v CA / 50 Hz, supplied by Trace Engineering -
Batteries - 800 AmpHours - locally manufactured
Array will be located on the rooftop of a community building
Charge Controller and DC disconnect circuits- locally manufactured in India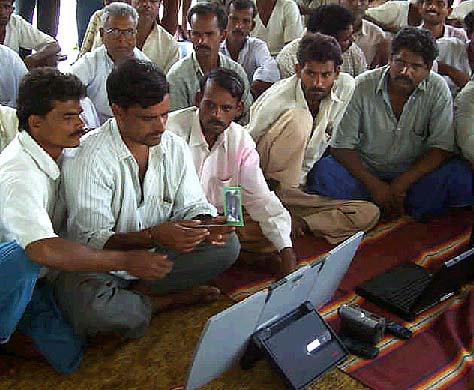 A small, portable satellite terminal from Inmarsat is used to provide wireless connections, through space, to the Internet for the village of Parvatapur.
Desktop Personal Computer
Pentium III; 550 MHz
64 MB RAM; 10 GB HDD
40x CD ROM
3 speakers at 40 watts each
high-resolution color monitor
USB ports, video memory, graphics accelerator
Intel Digital Camera
UMAX Scanner
Hewlett-Packard color printer

Fiber optic telecommunications, Internet connection:
Building on existing optical fiber, from Hyderabad to Mahabubnagar.
Operating at speeds ranging from 145 Mbps to 8 Mbps.
New fiber run to Parvatapur for Greenstar India will be about 5 km in length, from the existing exchange in Kilangpur north to Parvatapur.
Internet gateway, provided by Dishnet/DSL, is in Hyderabad.

Digital Culture recording
8 professional microphones
16-track DAT (Digital Audio Tape) recorder
32-channel mixer / equalizer
all-digital hand-held video camera
---
5. Company backgrounds:
Greenstar Corporation USA (http://www.e-greenstar.com) brings solar power, electronic commerce, education, community health, satellite communications and ecommerce services to rural villages in developing countries. The company has developed a self-contained solar-powered community centre, and helps to create "digital culture" in each village -- music, artwork, photography and poetry products which can be efficiently marketed directly on the Internet to a
worldwide consumer audience, to support village development.
Capital Fortunes Limited (CFL), based at Hyderabad, India, (http://www.capitalfortunes.com) is a Business and Project Advisory services company providing a range of financial services including in specialist areas such as infrastructure, privatization, overseas trade and technology collaborations. The Company has mobilised more than 8 billion Rupees in the past five years (182 Million US$ ) in financial products. The company is active in the areas of Corporate and Project Advisory Services, Joint Venture and Foreign Collaborations, Mergers and Acquisitions, Restructuring and Turnarounds, and in Merchant Banking. Special areas of expertise include Power, Ports, Highways, Roads & Bridges, Telecom and Mining industries.
For further information, contact:
Charles Gay
USA telephone 805-370-8530
by email: cgay@greenstar.org
Ms. Rajeswari Rao Pingali
Director, Greenstar India
91-40-3310560; 3316083; 3397279
by email: rajeswari@e-greenstar.com
Also see the Greenstar websites at http://www.e-greenstar.com and http://www.greenstar.org